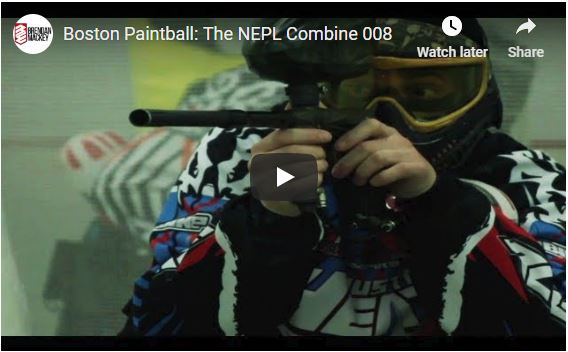 Hello again and welcome back….I think or I should say I hope. My next trip to me to the wild wonderful land of Boston, Massachusetts! Home of Boston Paintball and people with awesome accents. This would be be my second trip to Boston Paintball for their 8th annual Combine.
This year the combine had super turn out, 65 players showed up to play and show people what they had. Players got a gift package from G.I. Sportz, Planet Eclipse, KEE, and Boston Paintball. Each player then got a custom Raza jersey which in turn designated what team they were on. Mine, Heat, or Infamous, lead by Nicky Cuba.
Nicky and I were separated and on 2 different fields so we could give our camps instruction. I yelled at them a few times…calling them poop faces and what not. Anyway as soon as the players were split into their respective camps we, Nicky and I, began training them with some basic paintball 101 skills.This included snap shooting, laning, 1v1's, and proper ways to break out during the start of the game.
I had 33 players and Nicky had 32, with that the players were then split into 4 man teams. After the 8 4 man teams were made, the teams were then split into a high and low division. After this was done the teams went on to their pre-selected fields to begin playing against one another. I then tried as hard as I could to manage my 8, 4 man teams on two fields.
Wins were recorded and a mini tournament played out. I do not remember the exact count but Heat beats Infamous any day of the week so it is safe to say my team dominated! ;). When this was done with players could sign-up for a 1 on 1 tournament. The 1v1 had 2 divisions with guns as prizes. I was pretty pumped as one of my guys pulled off some great moves to make it into the finals and win! It was pretty awesome. Especially seeing his family cheer for him and rush over to him after the victory…made me feel all warm and fuzzy inside hehe.
After the 1v1 tournaments, raffle prizes and awards were handed out and all were happy in the Boston Paintball kingdom! Then all of a sudden, the one called Nicky "Night Night Sucka" Cuba spoke up about how awesome his team, Infamous was. I then politely informed him that his team was alright and not as awesome as mine. He then started talking about wins and dominating. I quickly interrupted him and pointed out Houston Heat's 3 PSP wins, one against his team, and the PSP World Cup Title and series Championship. Laughter and gasps abounded.
This is when Anthony, Boston Paintball's fearless owner, spoke up and said to take it to the field! Thus the stage for our 1 on 1 showdown was set. Now a year prior I defeated my foe with a quick and deadly shot over a pin to seal my victory and a pair of tickets to the Bruin/Rangers game. Nicky and I decided to play hopper ball and the game commenced. He went right and then cut back left, on his gun the entire time. He slowly made his way up the dorito side but then suddenly stopped. I called out to him asking if his gun had broke. I got no immediate response…but soon he was upon me! Making a mad dash towards me, in a great move that a noticed at the last second. Unfortunately for him he was a noob and ran out of paint. I simply moved around my bunker and shot him repeatedly into submission…it was AWESOME! Another victory for me and my teammates!!!
After this pictures, autographs, and laughs were had by all and a lot of us found ourselves at TGI Fridays. The rest of the weekend involved drinks with great and new friends, an awesome hockey game, the first of the season, and a little more paintball action.
I could not of asked for a greater weekend that encompassed the entire greatness of everything paintball has to offer. Great memories on and off the field. Younger players enjoying the game to the fullest and what I loved the most was watching them challenge themselves on the field.
Well folks that is it from Boston…next Houston Heat practice in California!!! Stay tuned!!!
You can see more pictures here:
http://alicianicolephotography.smugmug.com/Sports/Combine-2013/27666800_xr5MLp#!i=2330592742&k=S68sRqW