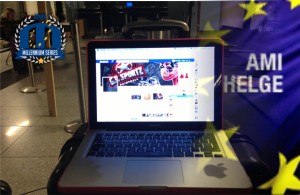 The winter frost has finally left (or almost left) the ground of Sweden and Northern Europe.  Time to pack up and head out for the first event of the Millennium Series 2013 season.   We spent a great deal of our off-season time in Moscow with events there and a special project or well more like part of a larger project to be precise, more on that subject at a later date.
So many things you can do in an airport while waiting for a flight. Most of my time is spent in front of the Mac working or as some may thing hanging out on Facebook.  Both can be productive.  As we are here in the airport in Copenhagen at least twice a month we have become familiar faces to those that work here on a daily basis.  Not sure yet if the staff knowing one by their first name is always a good sign.   Time spent in the airport waiting has also brought fruition to many ideas and fostered those already present in my mind.  Some of those are coming to reality, finally!  I've had time even to edit some photos for viewing pleasure.
This first event of the season actually is more exciting than before.  Finally I will get to meet one of our cooperative partners with HyBrid Foto (and very good friend of mine) for the very first time!  Helen Grose has made quite a splash and has headed over the big pond to her first Millennium Series event.  She is the official photographer for Houston Heat, who has decided its time to conquer the other side of the world in search of yet another world title.  Helen is along to document the story.  Actually we (HyBrid Foto) and Helen will be working on the sidelines together following Heat.  We were thrilled to have the opportunity to video the team throughout the season over here.  H2 is on the loose so to speak.
This season will be a challenge as many more North American teams have crossed over playing the Millennium Series as well as the PSP circuit.  It was wild to see as the CPL rosters came out the influx of all of the US players!  I don't think that the Millennium has seen this many American (or better worded, North American) players.  Dynasty left a hole in the CPL division when they decided not to return to Europe after so many years over here, but teams like Edmonton Impact, GI Houston Heat, Polar Bears Tarko Sale, Ramstein Instinct and several others have taken the focus on the California boys and brought fresh blood to our fields.
Art Chaos is our premier team we sponsor and work closely with as their official media and PR service provider for the past three years.  I myself was in awe when I saw a familiar America player listed on the roster, Kyle Spicka from Dynasty has joined this primarily Russian only team.  In the past these years we have become great friends with the players as well as Fedorov himself. We have been working on a training video for the past year and a half and are nearing completion of our labor of love, The Russian Connection.  (will keep you posted on that one.)
It is my intention, along with partner in crime, to bring to you each day of the event blog updates with short videos and photos.  Now it time for our lovely passage rites of TSA security,  for our flight soon awaits to take us away to what we hope is to warm sunny French Rivera.
Ami