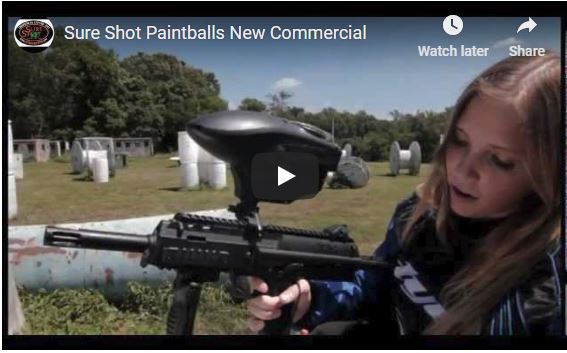 We are taking a short trip south to the lower end of Pennsylvania to check out Sure Shot Paintball, in Quarryville near Jellystone Park!
Sure Shot Paintball opened for business in March of 2004 and has quickly established itself as the premiere paintball field on the Maryland, Pennsylvania, and Delaware border as they are just a short drive from Philadelphia PA, Wilmington DE, and Baltimore MD. Their facilities include a pro-shop, clean restrooms, multiple chronograph and air stations (up to 4500 psi fill), a shooting range (available to all ages), cold ice water at all fields, a full snack bar (catering is also available), and cooling stations at the airball fields!
We know, we know…you're interested in learning about the field and seeing all the perks they have, but you're really just sticking around to see what playing areas they have. Well, here you go!
Sure Shot Paintball boasts 10 – read it, 10 – unique playing fields, which includes a tournament facility, several woods fields, and an incredible castle! Needless to say, Sure Shot can satisfy any paintball craving. Here's a quick run down!
10. The Shooting Range- Pick up a new marker and try it out, or bring your marker and tweak it just right.  Everyone enjoys shooting off some rounds at the shooting range.
9. Barrel Henge- Barrel Henge is awesome! It has a fort with a gunner's tower in the center. It is surrounded with hundreds of barrels set up in and around the fort. This is the ultimate attack and defend field.
8. The "Island"- The Island is a 2 acre plot of land consisting of trees, shrubs, boulders and some man made obstacles. Starting at each end of the island and trying to find and capture the flag from the middle of the field makes for lots of action. We have added a fort in the middle of the field along with additional bunkers.
7. The Ravine and Little Round Top- The Ravine is actually two separate areas that are separated by a dry stream bed. Little Round Top is a hill with some cool rock formations that provide natural coverage. There are also man-made bunkers scattered throughout. These fields are a sniper's paradise. These two fields can be played separately or combined for larger groups and scenario games. There are some awesome new changes in store for these fields.
6. Airball Factility- The Air Ball Facility consists of a 200′ x 120′ netted area that allows us to set up a full size 7 on 7 player field, or two 3 on 3 player fields.We have both PSP and NPPL layouts available. Come out on Sundays to practice on it or compete for prizes in one of our tournaments.
5. Blue Steel- Blue Steel has been around for several years and continues to be a favorite with newbies, woodsballers and tourney players. It is a very large field, approximately 300′ x 300′. This gives us plenty of options for change. It can be used as a speed ball field, attack and defend, or just a great snap shooting practice field. I think this will be one of your favorites as well!
4. The Spool Field- The Spool field is another long time favorite much like the Blue Steel field. This is a large field that allows for lots of movement. But watch out because your feet will stick out from under the spools. This field is a ton of fun, and is in a great setting!
3. The Ammo Depot- This field is a fast, close quarters combat field. It feels like you've been transported back to an ammo depot in the Korean War. It is built out of US Army cargo van bodies and a real communications trailer from the army.
2. The Bear's Lair- This field is comprised of metal tubes going through 8 ft. to 10 ft. dirt mounds. You never know if your opponent is above or below you!!! One minute there is no one there. The next minute there are paintballs flying towards you, and you can't tell if it's a guy lying in a pipe, or hiding in the brush. Be careful. Many a player has started to crawl into a tunnel only to get shot in the butt.
1. Assassin's Castle Compound- The Assassin's Castle is a 24′ x 32′ area that is surrounded by a 6′ high stockade fence with numerous gun ports. In the middle of the compound is a 12′ x 12′ elevated deck that is surrounded by a 4′ high stockade fence. In the middle of the deck is a 6′ x 9′ by 10′ high Castle that has gun ports and is a great height advantage for the Assassin over the attacking force. Your mission is to capture the Assassin's flag from the middle of the compound!
We are adding a rear entrance to the castle as well as placing additional bunkers in the rear of the compound. Also, in the front of the castle, we are placing two 50 caliber machine guns that the attackers can use to keep the defenders at bay. We are also adding an observation deck that overlooks the castle so that Moms and Dads can watch the action!
Afraid that the costs of playing at this extreme paintball park may be a little too extreme for you – you're DEAD wrong!
Sure Shot has several package tiers for players without their own equipment to choose from. They start at $50 that covers a Field Fee, a Standard Equipment Package (comes with a Tippmann 98, Mechanical Hopper, an air tank with unlimited refills, mask and barrel cover) and 500 paintball. If you're feeling out-gunned, Sure Shot also allows you to upgrade your Equipment Package from the Tippmann 98 to a Tippmann A5 or Smart Parts Sp-1; and if that is still not enough the player can further upgrade their package to include a tournament ready marker with electronic hopper! Sure Shot also offers yearly memberships which completely eliminate the field and air fee, gets the player 10% off any purchase in the proshop, knock $10 off any case of paint, and includes a Sure Shot t-shirt and a custom set of Sure Shot dog tags!
Have your own gear? Don't want to play with the birthday parties and new groups? Come join Sure Shot on Sunday afternoons for their "Speedball or Scenario Sundays".
Speedball Sunday: $60 includes Entry, All Day Air, and Case of 2000 paintballs. Practice against other local teams. Come by yourself or bring your whole team. Sponsorship packages are available for teams. The discount does not apply to rental customers, and entry is good only for the speedball field. Hosted by Sure Shot Factory.
Scenario Sunday: $20 includes Entry, All Day Air, and a Bag of 500 paintballs. We will be running scenario and objective based games from 10 am to 3 pm. There will be Smoke and Paint Grenades, Claymores, Trip Wires, and a Bazooka (among other things), all available for you! Don't forget to bring your pistol. Sidearms are allowed during games. The discount does not apply to rental customers. Hosted by The Sure Shot Militia.
Steve Ryan, owner of Sure Shot Paintball, had this to say about his field: "Sure Shot Paintball has been in existence since March of 2004. Over the years we have made some exciting changes that we hope you will find challenging and provide a great paintball experience. Our goal is to provide a clean, well organized facility with great playing fields and a well stocked Pro-Shop, where all players, experienced or new to the game, will have a terrific time and a memorable experience.
You do not need to be a teenage boy to have fun at Sure Shot Paintball. This is a great activity for people of all ages, kids to seniors. You can come with friends, a group or your family. If you are staying at Jellystone Park, be sure to add some paintball fun to your vacation!"
To find out even more about Sure Shot, see more pictures and videos, be sure to follow them online at:
www.sureshotpb.com
https://www.facebook.com/pages/Sure-Shot-Paintball/142857350660
http://www.youtube.com/user/sureshotpaintball