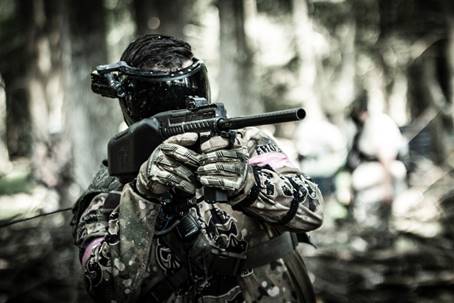 This past weekend at ION 2018, Frosty was given the opportunity to field test the soon-to-be-releasedTippmann Sports Raider during the beach landing phase of the event.
The Raider shares a number of similarities to theEmpire Paintball D'Fender, including a loader within the stock of the marker. However, the most notable difference with this marker is that it is fully mechanical – yes, even the hopper.
Additionally, the Raider is AC threaded, which is a bit of a departure from what one would expect from a woodsball marker, but certainly not a drawback.
Another neat feature is that there is a single push pin release to remove the portion of the feeding tube that connects the loader to the chamber in order to clear any breaks, making it great for a field expedient clean and very user friendly.
To quote Frosty:
"I was pleasantly surprised by the Raider. When displaying it to some fellow players before loading it or putting an air tank on it, the assumption was that the weight distribution would make it extremely back heavy. Once loaded however, it felt very natural, and was easy to shoulder and maneuver around as needed. I put the Raider though its paces during the frenzy that was the ION beach landing, putting nearly a case of GI Custom through the marker, and didn't have a single break or misfeed the entire time. The unintentional side effect of having the loader right next to your ear as you're firing it is that you can tell when you're getting low on paint from the tone of the thump. I look forward to seeing the final product and what options for the Raider become available after its release."
A big thank you to GI Sportz Paintball and Ryan Sexton of GI's Brigade Program for giving Frosty the chance to beat up your prototype during one of the world's most iconic paintball events!
And last but not least, thank you to Steve Ousey for the photo, excellent work as always!