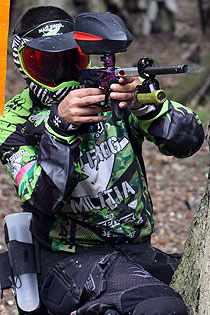 TEAM PROFILE – MAD FROG MILITIA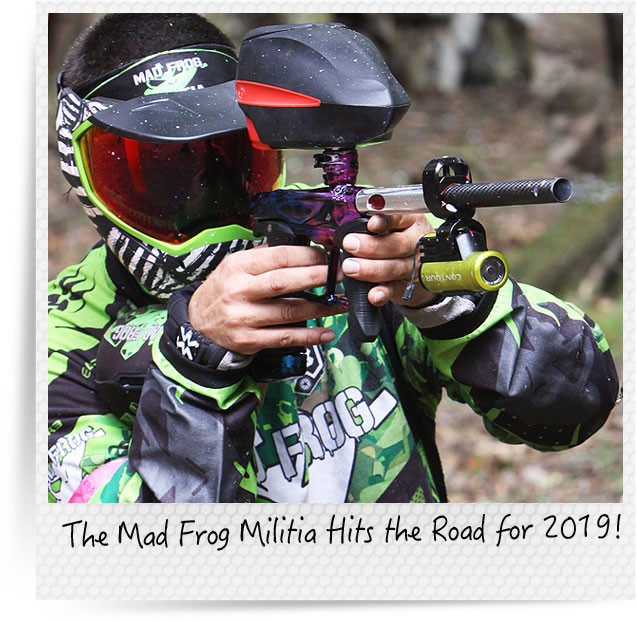 If you've played at a major scenario paintball game practically anywhere in the United States over the last few seasons you're sure to have seen, run alongside or shot it out with the Mad Frog Militia! This Michigan-based scenario squad sure dosn't stay put for long, as they can often be found piling onto the team bus for trips all over the country to battle in and even command scenario games at some of paintball's most amazing destinations!
From their home base at Lone Wolf Paintball to events like Skirmish Invasion of Normandy in Pennsylvania, Living Legends in Illinois, Hawaiian Legends (which they probably won't drive the bus to), the Monster Game at Hell Survivors, the Grand Finale at Wayne's World in Florida, Supergame in Oregon and East Coast Supergame in Maryland and Dreaded Legends at Black Ops Paintball in Myrtle Beach, South Carolina, William "Mad Frog" Crook and his family and crew represent the Brigade Program well! Wearing Empire EVS goggles and running everything from Empire Vanquishes to Axes and even the new Syx marker, you know the Mad Frog Militia when you see them thanks to their signature green FrogoFlage camo jerseys!
2019 MAD FROG MILITIA SCHEDULE
Bones & Ashes – Black Ops – Fayetteville, NC
Counter Cell 6 – White River – Anderson, IN
Dreaded Legends – Black Ops – Myrtle Beach, SC
American World War – Fort Knox Paintball – Winamac, IN
Super Game 52 – SniperzDen Paintball – St Paul, OR
Living Legends 12 – Legacy Adventure Park – Lockport, IN
Mad Max – Blast Camp – Hobart, IN
Armageddon – Hell Survivors – Pinckney, MI
World at War – Paintball Explosion – East Dundee, IL
Hawaiian Legends – Maui Paintball – Lahaina, HI
Red, White & Blue Game – Lone Wolf Paintball – Metamora, MI
Invasion of Normandy – Skirmish – Jim Thorpe, PA
Monster Game – Hell Survivors – Pinckney, MI
Super Game East – OXCC Paintball – Chesapeake City, MD
Marvel Vs DC – Fort Knox Paintball, Winamac, IN
Assassin's Creed: Prophecy – Sherwood Forest – IN
GI World Challenge – Hell Survivors – Pinckney, MI
Tombstone, Avid Extreme Sports Park – Guthrie, OK
Endless Legends – OXCC Paintball – Chesapeake City, MD
Battle Royale: The Revenge – Flagraiders Paintball
Clowns vs Zombies – Paintball Explosion – East Dundee, IN
World Cup – Gaylord Palms Resort – Kissimmee, FL
Grand Finale – Wayne's World of Paintball – Ocala, FL
---
FEATURED DESTINATION – BLACK OPS PAINTBALL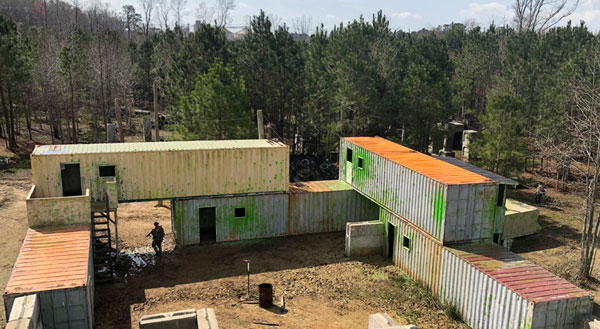 After hosting two Brigade Program Patch Events to start their 2019 scenario season schedule, Black Ops Paintball is off to an amazing start for the new year with two locations in the Carolinas! In addition to their constantly improving, but already amazing Fayetteville, NC location just outside Fort Bragg, Black Ops has recently opened a new park and retail pro-shop in Myrtle Beach, South Carolina! Black Ops' Fayetteville, NC location has hosted Bones and Ashes for the past two seasons and boasts an amazing on-site pro-shop with indoor staging areas, a turf competition field and, most importantly for Brigade Members, a remarkable wooded battlefield featuring massive structures, tall towers, earthworks, bridges, roads, vehicles and water features!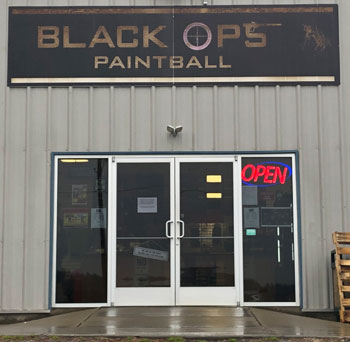 Players headed to Myrtle Beach, South Carolina in mid-April for Dreaded Legends and were treated to a great new Black Ops facility there as well! While smaller, the new Black Ops location is located just minutes from the amazing vacation destination of Myrtle Beach, with all its hotels, restaurants, shows and other attractions, plus the Myrtle Beach International Airport right down the street! The playing field is, like its big brother in Fayetteville, very impressive with trenches, earthworks, concrete and metal structures and plenty of pristine Carolina woods to creep and crawl through!
Staffed by knowledgeable people who love the game of paintball and standing tall, both Black Ops Paintball locations, in Fayetteville, NC and Myrtle Beach, SC are outstanding places to play the game we all love and get any gear that might be needed! Learn more about these impressive paintball parks and storefronts now at www.BlackOpsPaintball.org

---
FEATURED PRODUCT – TIPPMANN TMC ELITE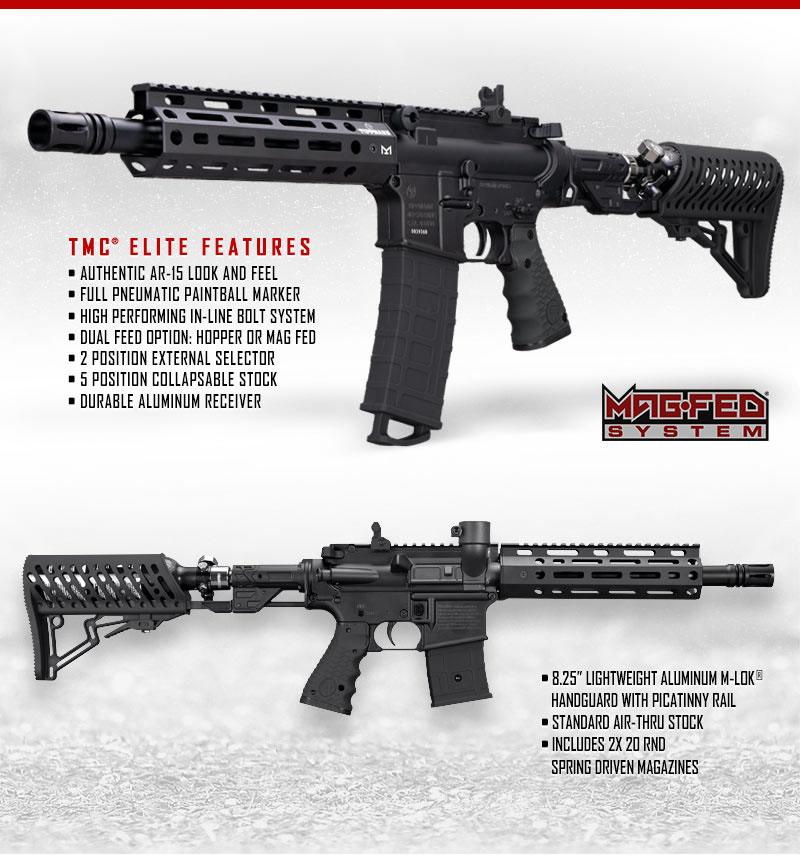 With its competitive performance, tactical tough looks and amazing price, it's no wonder the Tippmann TMC took the mag-fed tactical paintball world by storm! Now Tippmann follows up on its massive success with an updated, upgraded version for serious mag-fed tactical and scenario players, the Tippmann TMC ELITE! Featuring AR-inspired good looks and updated with new features to bring out the best the platform has to offer; serious tactical paintball players are sure to love the latest offering from the legendary brand!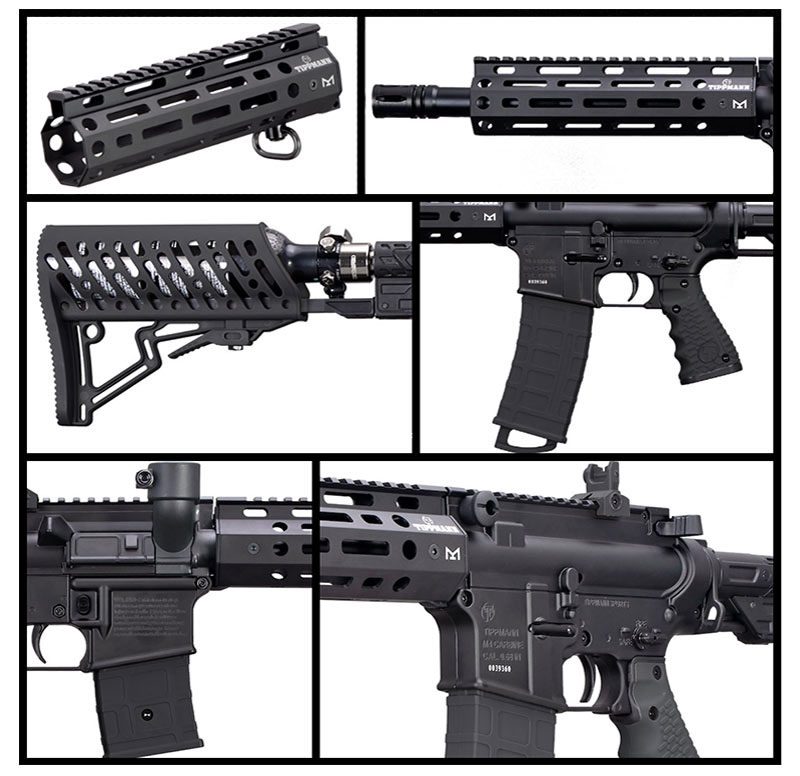 A fully pneumatic, semi-automatic 68 caliber marker featuring a robust and reliable in-line bolt system for reliable performance mission after mission, the TMC offers players the ability to switch between magazine and hopper feed for added versatility. The TMC Elite ups the ante with an aluminum MLOK shroud for a sharp look and improved ergonomics, and is standard with a new air-through, adjustable stock that completes a truly tactical look that scenario, tactical and mag-fed players are sure to love! Players serious about their mag-fed paintball who are in search of a high-performance tactical marker need look no further than the Tippmann TMC ELITE!
---
FEATURED STAFF – ARTHUR DOLZHANKSY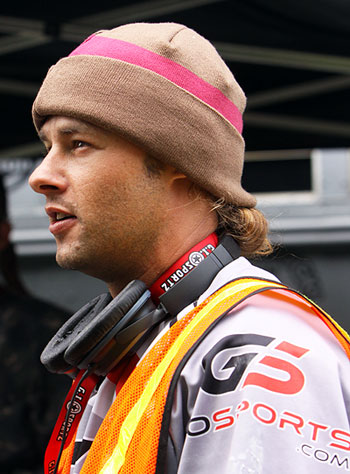 Position: Videographer & Video Editor
Time With the Company: 3 years
Previous Employer: DerDer Productions
Favorite Thing about Working for G.I. Sportz: Being able to showcase and document the history of paintball and making memories for the players. My motto is "No event should be forgotten!" My job also gives me the opportunity to travel and see my friends from around the country – it really encompasses everything I love!
Playing Status: I do play when I can. I play locally on Palm Beach Reckless, which competes in the MVPS Tournament Series in Florida. How can you work in paintball and not play?
---
UPCOMING BRIGADE EVENTS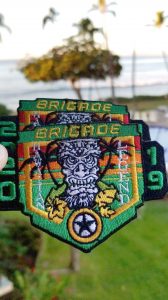 Vipers Mob Wars – Avid Extreme Sports Guthrie, Oklahoma – 5/3-5/19
Sherwood Classic – Sherwood Forest Paintball, Laporte, Indiana – 5/3-5/19
SuperGame 52 – Sniperzden, St. Paul Oregon – 5/3-5/19
Splatter park – Mt. Gilead, Ohio – 5/5/19
CPX Living Legends 12 – Legacy Adventure Park, Chicago, Illinois – 5/17-19/19
Cousins Big Game – Cousins Paintball, Long Island, NY – 6/1-2/19
Oregon vs Washington – Splat Action, Molalla, Oregon – 6/15/19
Hatfields vs McCoys – Elite Sports, Salina Kansas – 6/29-30/19
CPX Hawaiian Legends – Maui Paintball, Lahaina, Hawaii – 7/5-7/19
Invasion of Normandy – Skirmish Albrightsville, PA – 7/12-14/19
Red/White/Blue game – Lone Wolf Paintball, Metamora, Michigan – 7/14/19
Top Gun Alamo – Cream Ridge, New Jersey – 8/3/19
Supergame East – OXCC Chesapeake City, Maryland – 8/16-18/2019
Vietnam CJ's Paintball – Martell, Nebraska – 8/24/19
KC's 24hr game – South Prairie, Washington – 8/24-25/19