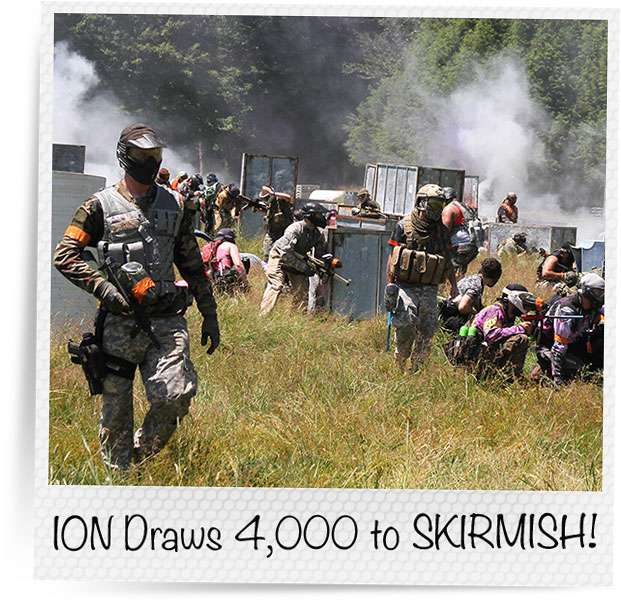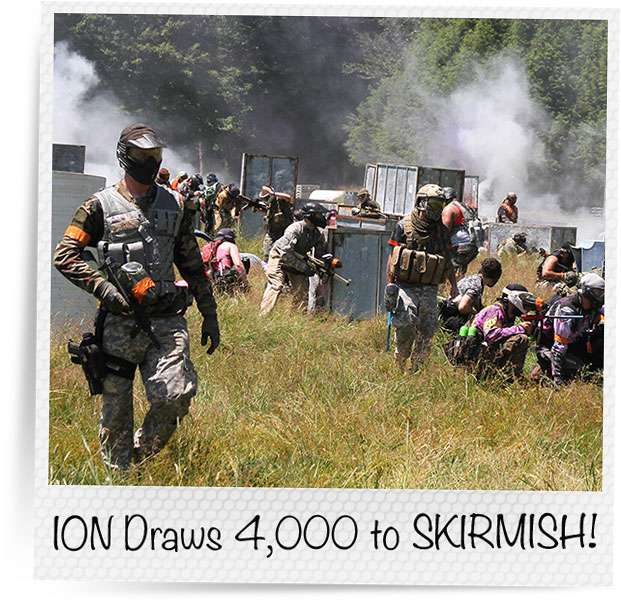 FROM THE COMMANDER
G.I. SPORTZ ANNOUNCES SPONSORSHIP AGREEMENT WITH JOE PEREZ OF THE 13TH LEGIONNAIRES!
Joe has become a regular at major scenario games across the country, and always brings a high level of energy and camaraderie with him.
We are excited to announce that Joe will be using products from our G.I. Sportz, Empire, JT, and VForce brands  for the remainder of 2019 and 2020. In addition to being President of the 13th Legionnaires, he is also Captain of their East coast chapter, a co-founder of Pump Revolution, founder of Young Guns Paintball Program at Accurate Paintball and has been playing for 15 years.
" I had the pleasure of meeting Joe at Living Legends this past year and he played for me at Hawaiian Legends shortly after that. Joe is a great Ambassador of the sport, both on and off the field. His energy keeps people excited about paintball. I am very excited to have Joe on board with us."  Said Ryan Sexton, Sponsorship Coordinator for G.I. Sportz.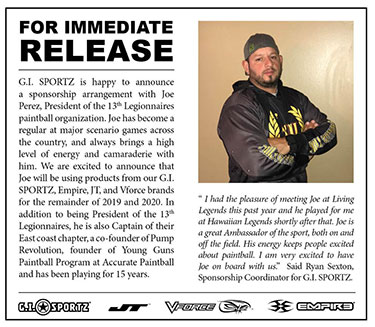 FEATURED DESTINATION - SKIRMISH
Nestled into the Pennsyvlania Poconos, Skirmish has been one of America's premiere paintball destinations since the eighties! Featuring over 50 unique playing fields spread across over 750 rolling acres including not one, but TWO castles, cargo containers, forts, villages, helicopters, tanks and airplanes, not to mention natural features like creeks, streams, swamps and the legendary Skirmish Rhododendron trees, Skirmish is a true paintball destination like no other!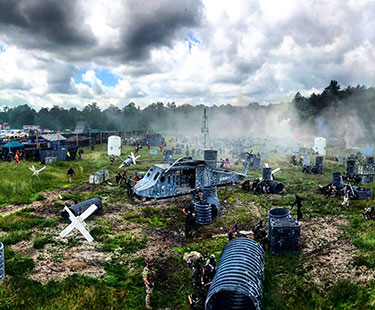 In addition to its remarkable acreage and incredible features, Skirmish plays host to one of the largest paintball scenario games in the world when they promote ION – the Skirmish Invasion of Normandy – that pits the invading Allied armies against the defending Germans on the beaches of France in 1944! Imagine thousands of paintball players shooting millions of paintballs at one-another as the courageous Allies pour out of landing craft and charge across Sword, Gold, Juno, Utah and Omaha beaches and smash against the formidable German defenses! There's simply nothing like ION in the entire world of paintball and players come from all over North America to experience this once-in-a-lifetime battle!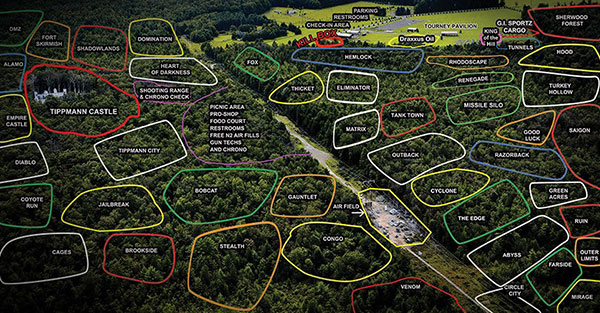 Overflowing with amenities and standing by to provide players from day-one to the pro level with the paintball experience of a lifetime, Skirmish is an incredible paintball destination that players on any level simply must see to believe!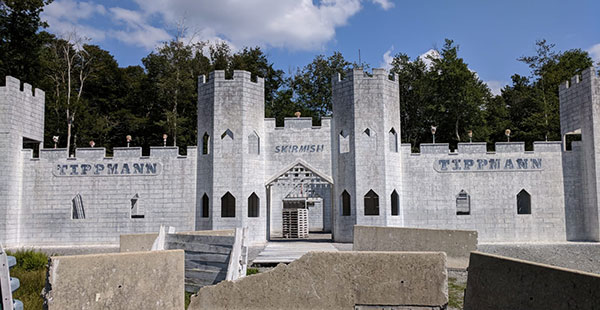 FEATURED PRODUCT - TIPPMANN RELOADER
Any serious shooter knows that loading magazines is a required, but tedious part of the pew-pew process. Leave it to Tippmann to solve that issue for mag-fed paintball players worldwide! Now, with just the turn of a crank, players can load up and get back to the action!
The soon-to-be-released Reloader from Tippmann quickly and easily reloads both .68 and .50 caliber Tippmann and JT paintball marker magazines and can even be mounted to a table or wall to crank out mag after mag for tactical paintball enthusiasts. Keep an eye on Tippmann.com for the official Reloader release date!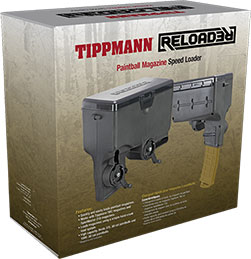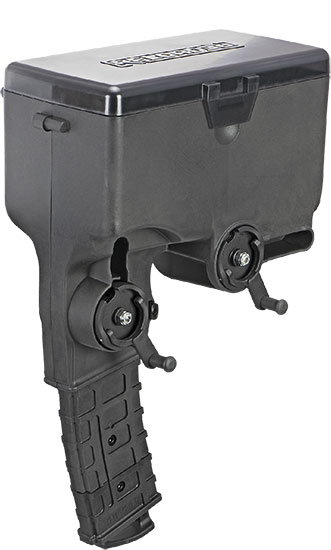 IN LOVING MEMORY OF MANFRED ULRICH
It is with an extreme heavy heart that we inform you of the passing of our Partner, Colleague and friend, Manfred Ulrich.  Manfred passed away Monday, September 3rd, 2019, after a very long and brave battle with his illness.  He is at peace now but will be very sadly missed by all of us at G.I. Sportz.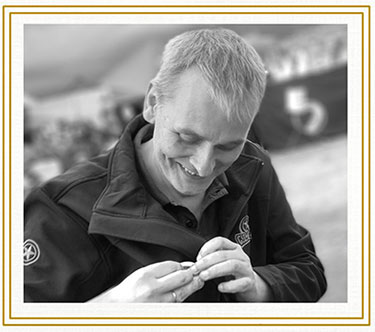 Manfred was not only an employee, he was a Partner, a Colleague, a Friend and a big part of GI's Family.  He had been associated with GI since it's inception in 1998 as Procaps' Distributor and owner of Maxs Paintball in Germany; he later became a Partner of GI; and most recently, was our VP of our office in Freidberg, Germany.
While the paintball industry is small, Manfred was a very large part of the industry.  He has been involved from the grassroots of paintball on many levels as a business owner; a customer; a competitor; a partner; a promoter, and most importantly, a friend to everyone in the industry.  He is a valued and important member of the paintball community and has been instrumental in the success of paintball's growth over in Europe and abroad.
We extend our deepest sympathies to GI's team over in Germany who have worked with Manfred for many, many years.  Not only our GI team, but Manfred's longtime Maxs team.  This is a very sad day for all. Most importantly, we extend our deepest condolences to Manfred's wife, Alexandra and his children.  Our thoughts and prayers are with all of you during this very difficult time.
Personal message from Richmond, CEO:
"Although Manfred and I started out as competitors many years ago, we ended up as Partners, and most importantly, as Friends.  He was iconic to the paintball industry and was just one of a handful of people that helped shape the paintball world. He will surely be missed by myself and everyone at G.I. Sportz. This is truly a sad day for GI, as well as the entire paintball community. Our Deepest condolences and sincere sympathies to Alexandra and the Ulrich Family."
Rest in Peace, Manfred.  Thank you for your irrefutably immense impact within our Paintball community. You will be very sadly missed by all.
Black Ops OP Homefront – North Carolina – 9/13-15/19
World of Tanks – OSG Paintball, Center Barnstead New Hampshire – 9/19/19
Sherwood Mission Masters – Sherwood Forest La Porte Indiana – 9/21-22/19
Decay of Nations – SC Village Corona, California – 9/27-29/19
G.I. World Challenge – Hell Survivors Pinckney Michigan – 9/27-29/19
Viper's Tombstone – Avid Extreme Sports Guthrie, OK – 10/4-6/19
CPX Endless Legends – OXCC Chesapeake City, MD – 10/4-6/19
SplatterPark Big Game – SplatterPark Mt Gilead, OH – 10/6/19
Battle Royale – Flag Raiders Kitchener, Ontario, Canada – 10/5-6/19
North vs South 4 – West Coast Adventure Park Sloughhouse, CA – 10/19-20/19
Alien Invasion – Lone Wolf Paintball Metamora, MI – 10/13/19
I Am Legend – Elite Sports Salina, KS 11/1-3/19
Dark Ops – Cousins Paintball – New Jersey – 11/17/19
Wayne's Grand Finale – Wayne's World of Paintball Ocala, FL – 12/7-8/19