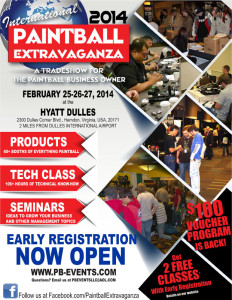 Feb 25 – 27, 2014  (Tue – Thur)   
Perfect event for paintball business owners looking to learn how to grow your business in a struggling economy.  Paintball Extravaganza was first held in 2005, with just 18 exhibitors and 36 dealers.  Word of the event spread quickly, starting a trend of consistent growth.  Paintball Extravaganza International now brings in over 200 dealers and over 60 exhibitors, including all the industry's finest and most established manufacturers, dealers and field owners. Classes and seminars have also seen a steady growth, over 24 business forums and technical training seminars presented by many both inside and outside the paintball industry. The event has also gone international, with over 24 countries represented over the past three years. Past events have seen over 400 dealers and fields represented from 36 states and 16 countries. 
Paintball Extravaganza International has become the "Can't Miss Event of the Year"  for the paintball industry.